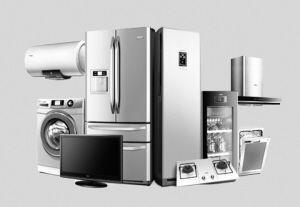 During the May 1st period, due to the influence of traditional marriage and new factors such as weddings and home improvement, the sales of home appliance retail market were very popular. In contrast to previous years, the "May 1st" of 2013 was affected by the energy conservation subsidy policy. obvious.
"I bought an energy-efficient refrigerator and directly subsidized 400 yuan. Although it is more expensive than ordinary energy-consumption refrigerators, the subsidy and later-use electricity savings are more affordable." With long-term intentions, in recent years, energy-saving appliances have become a common choice for many residents.
It is understood that this year's 51 catch up with the "last train" of energy-saving subsidies, sales of energy-saving products in the store appeared "overwhelming" trend, there are data that part of the first and second-tier energy efficiency appliance sales increased by nearly 200%.
"Refrigerators, air conditioners, and washing machines are soon to be bought at home. It's better to pick up May 1st shopping malls for purchases together with promotions. They can also enjoy energy-saving subsidies." Although the home hasn't been completely renovated, Ms. Wang has newly married this year. Started purchasing appliances according to the list.
In the same way, there are also supermarkets and manufacturers that are rushing to catch the last bus. At present, major home appliances stores have begun to increase sales efforts to seize the "51". "Because the policy is about to expire, whether there is no news of continuing. For consumers in demand, from the end of April to the middle of May is a suitable purchase period." Analysis of the head of the mall.
Taking Meiling, a leading enterprise in home appliances, as an example, during the May 1st period, Meiling launched a "energy saving, frost-free, and a province-wide" promotional campaign. As a household appliance and refrigeration company that has been at the forefront of the industry in the field of energy conservation, the introduction of the national energy conservation subsidy policy in 2012 further amplified the core competitiveness of Meiling.
According to statistics, as of now, the company's 266 energy-saving refrigerators, 31 energy-saving refrigerators, and 53 energy-saving washing machines have all passed the review, and are listed in the energy-saving products Huimin project promotion catalogue, and the refrigerator category energy-saving Huimin products have entered the industry. Leading, as of April 30, Meiling energy-saving Huimin product promotion network for the record 23213.
At the same time, based on its own energy-saving technologies and full-industry-chain advantages, Meiling has achieved high-efficiency and frequency conversion of its high-end products, and has passed green and energy-saving standards throughout the entire production process of home appliances to achieve high-end products with low energy consumption.
Taking the new product BCD-560WBK as an example, it adopts DICS dual independent circulation system, which is classified as fresh-keeping, full-air cooling design, high-efficiency frequency conversion compressor is more energy-efficient, daily power consumption is 1.19 degrees, refrigeration capacity is 12KG, and 400 yuan can be enjoyed during purchase. Subsidy and compressor free replacement policy for 10 years.
It can be seen that while Meiling accelerates the transformation of high-end products, it also proposes a new path for the high-end transformation of the industry. It can be predicted that in the future, the rigid demand for home appliance upgrading will be further released. Leading home appliance enterprises are expected to further seize the domestic refrigerator market share through the establishment of their own core competitiveness.
The FirstPower CFPS(2V) and LFPS(6V/12V) series stationary batteries (Opzs Battery) are the newly products which were developed at the end of 2005.
The performances meet the standard DIN40736 and IEC60896-21...Characteristics Positive plate: It is a tubular plate that can prevent the active material from falling off. The grid of positive plate is Pb-Sb multi-alloy
Separator: With the combined application of porous rubber and porous PVC, the separator has a high porosity and good corrosion-resistance
Acid-proof bolt: It is of a special shape of funnel having the function of filtering acid smog and retarding flame. It can measure the density and temperature of electrolyte.
The design life is more than 20 years
Ensuring sufficient electrolyte for battery discharge


Storage Power Opzs Battery,Solar Storage Battery Opzs Battery,Opzs Battery
Firstpower Tech. Co., Ltd. , https://www.firstpowersales.com