[ High-tech LED News] On
June
10th
,
the market leader in LED lighting, Cree (Nasdaq: CREE), during the Guangzhou International Lighting Exhibition and the famous Chinese LED lighting company - Shenzhen Zhongming Semiconductor Lighting Co., Ltd. Called "Zhongming") successfully signed a strategic cooperation agreement.
Xue Xinyu, Chairman of Shenzhen Zhongming Semiconductor Lighting Co., Ltd. and Tang Guoqing, General Manager of Career China Market, signed a strategic cooperation agreement as representatives of both parties. At the same time, Vice President of Cree and General Manager of Cree LED Components, Norbert Hiller, Managing Director of Hong Kong Career Co., Ltd. Li Shiyi, Chairman of Cree and Special Advisor to Chief Executive Officer Shi Lancan were invited to attend and witness the signing ceremony.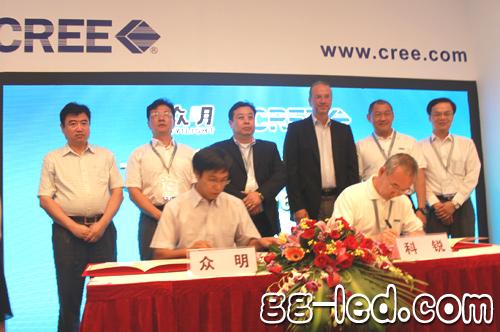 Cree and Zhongming successfully signed a strategic cooperation agreement
Through strategic cooperation, Career and Zhongming will fully communicate and understand the new trends and new demands of the LED lighting market, complement each other and deepen the development of lighting applications. With Career's expertise in LED devices and the advantages of Zhongming's R&D, design and sales of lighting products, it provides technology-leading high-quality LED lighting applications and solutions for the global market.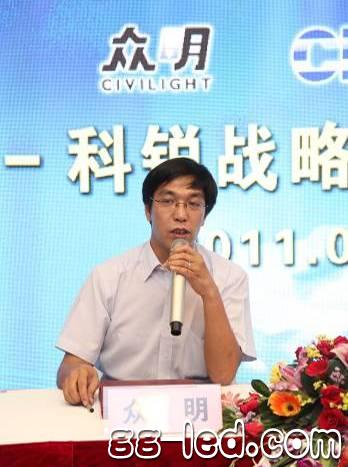 Xue Xinyi, Chairman of Shenzhen Zhongming Semiconductor Lighting Co., Ltd.
Xue Xin, chairman of Zhongming, said that in recent years, Zhongming and Career have maintained a very good cooperative relationship. With the signing of the strategic cooperation agreement between the two parties, Zhongming will rely on Keyui's leading LED lighting technology, relying on Zhongming's research and development advantages in the field of lighting, perfect production system and manufacturing capacity, and exert its sales advantages in domestic and foreign markets. Cooperate with innovation, accelerate the realization of the strategic layout of mutual complementarity, and continuously introduce leading LED lighting products to achieve mutual development and win-win results.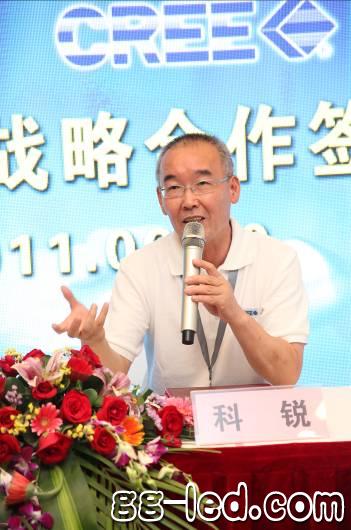 Tang Guoqing, General Manager of Career China Market
In the speech, Tang Guoqing, general manager of Cree China Market, mentioned that Cree LEDs are leading in the industry in terms of brightness, light efficiency, thermal performance, longevity and reliability. At the same time, we have a series of LED products that can meet the needs of various lighting applications. It can be said that everything is available, and you can make more value for customers' "smart". With Cree's latest laboratory development results with a luminous efficacy of 231 lm/W, it is approaching the theoretical limit again, further demonstrating the determination and strength of Cree's LED lighting revolution. Career will continue to deepen the development strategy of "Keuixin, China" and actively establish close partnerships in various fields. This time, together with Zhongming, we will give full play to our respective industrial advantages and jointly promote the transformation of the semiconductor lighting industry!

Crawler Tractor for Agriculture:
Crawler tractor for agriculture can be widely used in agriculture, by installing the agricultural equiment, the farm tractor can be used for farm land cultivation, harvest and ridging. These Agriculture equipment crawler tractors we produced are domestic initiative and technology leading. The performance, such as hydraulic controlled differential - brake turn to technology, 360-degree steering wheel control and spin turn are our company`s unique advantages. In addition, our products also have the superiorities of triangular track drive, low grounding pressure and better paddy field performance. These products are of high efficiency, long operating life. and low fuel consumption. Our crawler tractors are easy switching between hydraulic infinitely variable speed and mechanical transmission.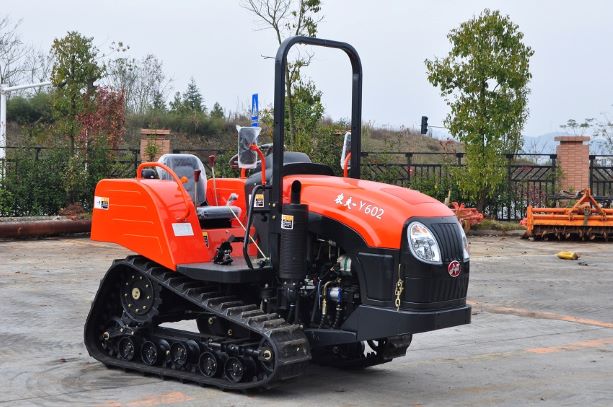 Crawler Tractor for Agriculture Technical Parameters:
1. Mini ground clearance: 400mm
2. Engine form: direct injection, vertical, water-cooled, four-stroke
3. Engine Fuel: diesel
4. Engine rated power: 50-66Kw
5. Working device lifter type: semi-split
Typical Applications: can be worked in paddy field, dry land, hilly ground or greenhouse.
If you have any questions, please contact us directly. Crawler tractor for agriculture are produced by Hunan Nongfu with high quality and good appearance.
welcome you can visit our factory for inquiry, please send mail directly to us.
Crawler Tractor for Agriculture
Agricultural Crawler Tractor, Land Cultivation Tractor, Mini farm Tractor, Agricultural Equipment
Hunan NongFu Machinery&Electronic.Co., Ltd. , https://www.nfagmachine.com