SINGAPORE, Nov. 12 - DELO has once again expanded its range of industrial LED tubes (LEDs) to introduce two high-performance products with higher brightness - DELOLUX 20 and DELOLUX 50. DELOLUX 20 evenly illuminates the bonded surface and cures the slim adhesive layer at the joint of the product in seconds; the DELOLUX 50 features the latest features of the concentrating type. The main advantages of LED lamps compared to conventional discharge lamps include longer life and stable light intensity. They are mainly used in industrial production to cure light-sensitive adhesives quickly and efficiently.
The DELOLUX 20 area lamp allows the bond layer at the joint to cure quickly while stabilizing the production process. Optimized spectral wavelengths between 400 and 460 nm apply to DELO's photocurable and UV-curable adhesive layers, making cure times in seconds. In addition, the compact design makes DELOLUX 20 easier to embed in a variety of production lines. "The area of ​​the light source is almost equal to the size of the lamp head, so by arranging several DELOLUX 20 devices, it is possible to evenly illuminate any size of adhesive layer," explains Marcus Hauer, Singapore's chief representative of DELO Industrial Adhesives. In addition, DELOLUX 20's low energy consumption and low maintenance costs reduce operating expenses.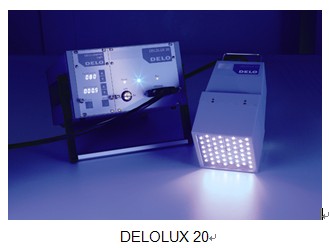 Since only one external control unit (eg DELO-UNIPRO) can control up to four DELOLUX 20 lamps independently, the brightness and time of the illumination can be individually configured according to different production processes. This new partial illumination lamp is especially suitable for fully automated production lines, glass bonding, display bonding, large-area applications requiring uniform and low-tension curing, and thick, layered adhesive layers. The very uniform illumination surface, ultra-low heat radiation, start-up and extinguishing can be controlled in milliseconds, and the DELOLUX 20 is the best support for DELO-KATIOBOND assembly and other large-area pre-activation.
The high-performance DELOLUX 50 spotlight source cures the bonded surface more precisely and quickly; each base unit can be fitted with up to four DELOLUX 50 tubes.
"This lamp is suitable for the flexible exposure of a small UV-curable adhesive layer and multiple adhesive skins," emphasizes Marcus Hauer. Since the LED head is very small, it can be easily configured on the production line. The new light can emit dense light sources up to 12,000 mW/cm3.
Traditional mercury lamps cannot be turned on or off in an instant, and their lamp life is limited to approximately 1,000 hours. Whether or not the adhesive cures instantly, this adds significantly to additional operating and maintenance costs. In contrast, LED lights are only activated when needed, and the actual lifespan is over 20,000 hours; with a custom-designed narrow emission spectrum, the adhesive can be effectively cured and permanently cured.
Details are available on request; please contact DERO Industrial Adhesives, Jooi Liang See (Tel: +60 (3) 56357338, Email: )
About Delu Company
Kushiro is a leading manufacturer of industrial adhesives and is headquartered near the German city of Munich. In the 08/09 financial year, 230 employees of the company created sales of 30 million euros. Deloitte offers custom-made adhesives and ancillary equipment for special applications ranging from electronics and chip cards to automotive manufacturing and glass and plastics processing. The main customers of Deloitte include Bosch, Daimler, Festo, Infineon, NXP and Siemens. Delu has a global network of distributors and sales partners.

Four Burner Gas Cooker,Stainless Steel Gas Stove,Ce Table Outside Gas Cooker,4 Burner Glasstop Gas Cooker
Xunda Science & Technology Group Co.ltd , http://www.xundatec.com