There are many manufacturers of LED and LED lighting. Different manufacturers use different quality LEDs, which is an important reason for the different price of LED lighting. Due to the increasingly fierce price war, the products with almost the same appearance, structure and function have a price difference of 2-3 times. Many users have been stunned for a while, and they do not know where the price difference comes from. Generally, LED lighting manufacturers that do not produce LED lighting tubes are generally not produced. It's hard to distinguish, let alone consumers.
Therefore, it is better to choose a LED lighting factory that has a good LED production source or a complete LED testing equipment, so that the bought LED lighting products will be more secure.
Let's see what factors are causing the price difference of LED lamps:
1, brightness
The brightness of the LEDs is different and the price is different.
2, antistatic ability
LEDs with strong antistatic properties have a long life and are therefore expensive. LEDs with an antistatic greater than 700V are usually used for LED lighting.
3, wavelength
LEDs with the same wavelength have the same color. If the color is the same, the price is high. It is difficult for manufacturers without LED spectrophotometers to produce pure color products.
4, leakage current
The LED is a unidirectional conductive illuminator. If there is a reverse current, it is called a leakage current, and the LED with a large leakage current has a short life and a low price.
5, the angle of illumination
LEDs with different uses have different illumination angles. Special lighting angle, the price is higher. Such as the full diffusing angle, the price is higher.
6, life
The key to different qualities is life, and life is determined by light decay. Low light decay, long life, long life and high price.
7, LED chip
The illuminator of the LED is a chip, and the price of the chip varies greatly. The chips in Japan and the United States are more expensive, and the price of LED chips from Taiwanese and Chinese manufacturers is lower than that of Japan and the United States.
8, chip size
The size of the chip is expressed by the side length, and the quality of the large chip LED is better than that of the small chip. The price is proportional to the chip size.
9, colloid
The colloid of ordinary LED is generally epoxy resin, and the LED with anti-ultraviolet and fire retardant is more expensive. The high-quality outdoor LED lighting should be resistant to ultraviolet rays and fire.
There are still some illegal people in the LED lighting market, deceiving suppliers, defrauding suppliers of materials to produce finished products, and selling finished products at abnormally low prices in exchange for cash. There are also a handful of LED lighting manufacturers that deceive dealers and users with unrealistic promises, and then use the tactics of constantly changing the firm or the person in charge to shirk responsibility.

Model: B12.5-HD
Resolution: 1920*1080
Brightness: 350 nits
Viewing angel: 178/178
Contrast rate: 500:1
Input: HDMI+12V DC in
Material: aluminum alloy case
Product size: 30.8*19.7*1.6 cm
Net weight: 0.61 kgs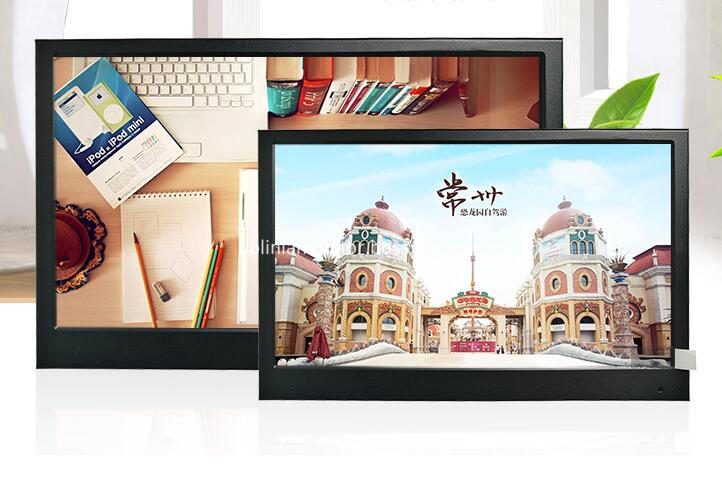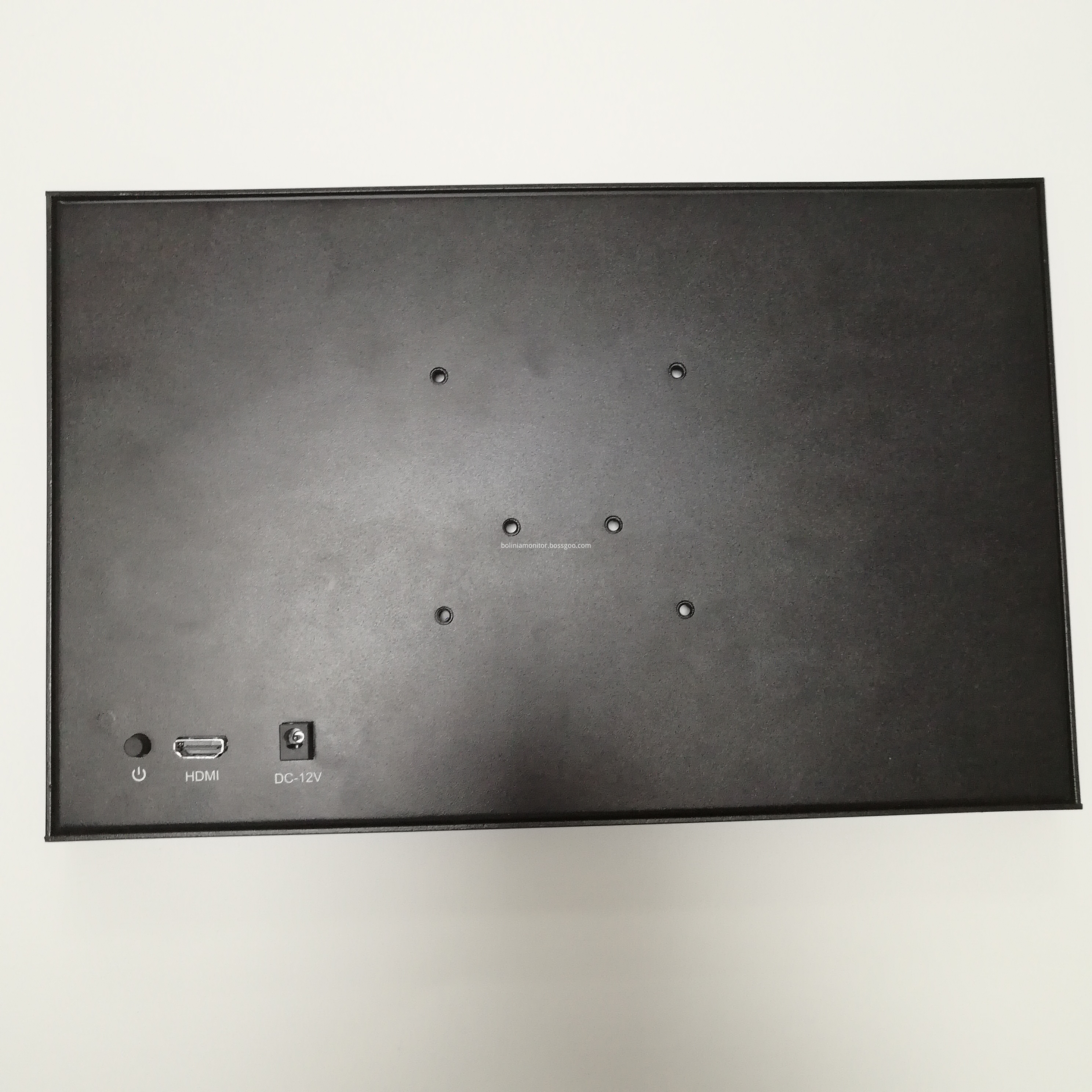 Shenzhen Bolinia Technology Co., Ltd. is a manufacturer for 7-32 inch lcd monitors and displays over 13 years. Original factory with assembling line in Shenzhen. Product ranges from plastic monitor, Metal Monitor , Resistive Touch Monitor, Capacitive Touch Monitor, Open Frame Monitor , Embedded Monitor to SDI Broadcasting Monitor. Square monitor or wide screen monitors are available with different resolutions. Members in Alibaba, Global Sources and Made-in-China. Newly launched 10.1-32 inch All In One PC and portable LCD monitors.

Plastic or metal casing monitor from 7 inch to 24 inch.
Single Touch Monitor with resistive 4 wire and 5 wire for options from 7 inch to 22 inch.
Multi-touch projected capacitive touch ( PCAP Touch or PCT) monitor from 8 inch to 24 inch.
SDI monitor from 15 inch to 21.5 inch.
High Brightness Monitor from 10 inch to 22 inch.
Mirror Image Monitor with size: 8 inch, 9.2 inch, 10.4 inch, 12.1 inch, 15 inch, 17 inch, 19 inch, 20.1 inch and 22 inch.
All in One PC with Android system with 10.1 inch, 13.3 inch, 15 inch, 15.6 inch, 18.5 inch, 21.5 inch, 23.6 inch, 24 inch, 27 inch and 31.5 inch.
Portable LCD Monitor with11.6 inch, 12.5 inch , 13.3 inch and 15.6 inch.

Products mainly used in ATM, POS, CCTV security, Information checking, Kiosk, BGA repairing station, Lottery terminals, microscopes and similar applications. Portable LCD monitors perfectly compatible to PS4/PS3/PS2/Xbox ONE/Xbox 360, game consoles, PCs, Macs, Raspberry Pi, laptops, cameras and tablets.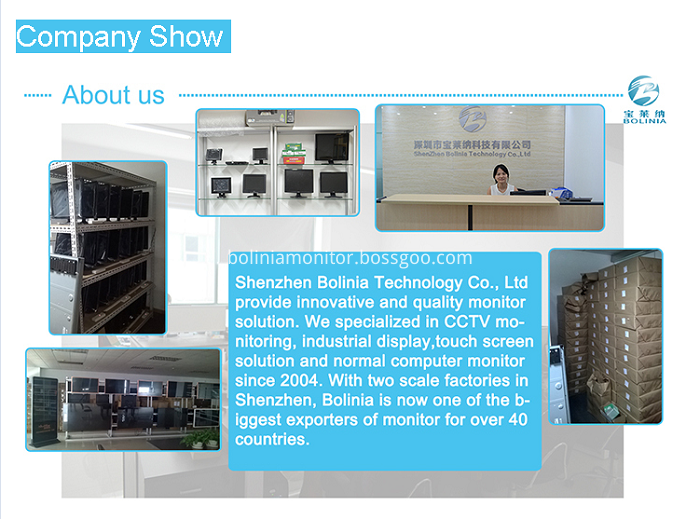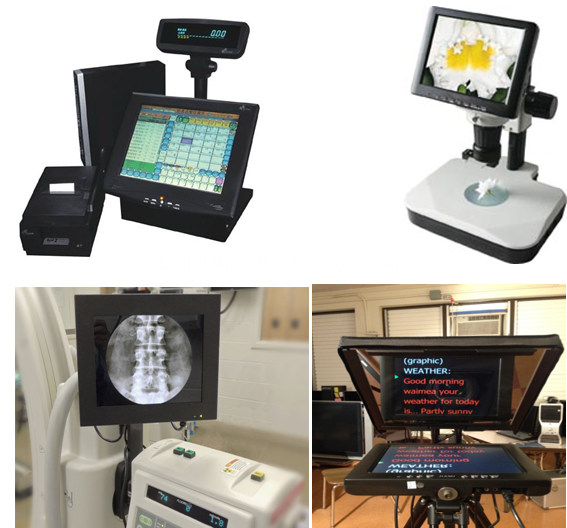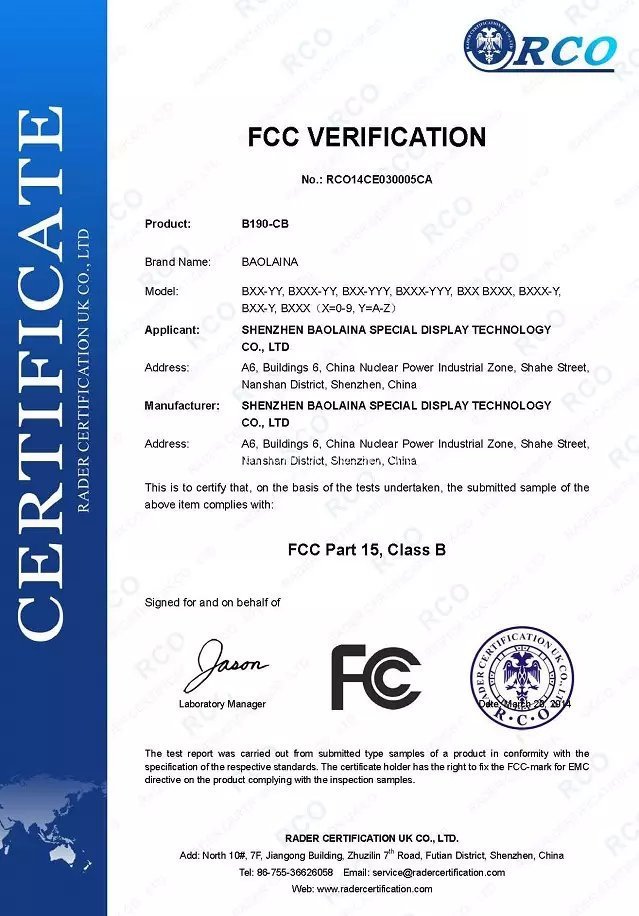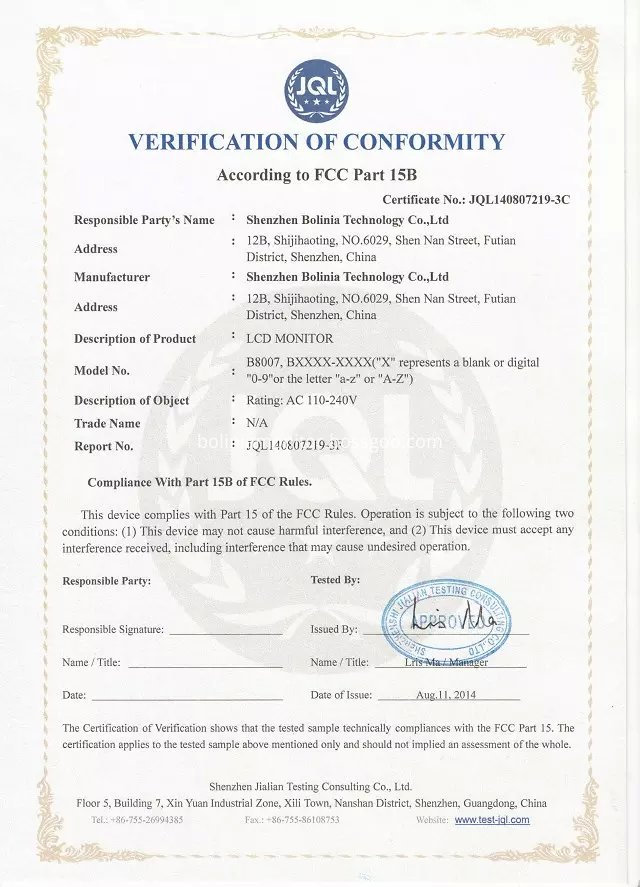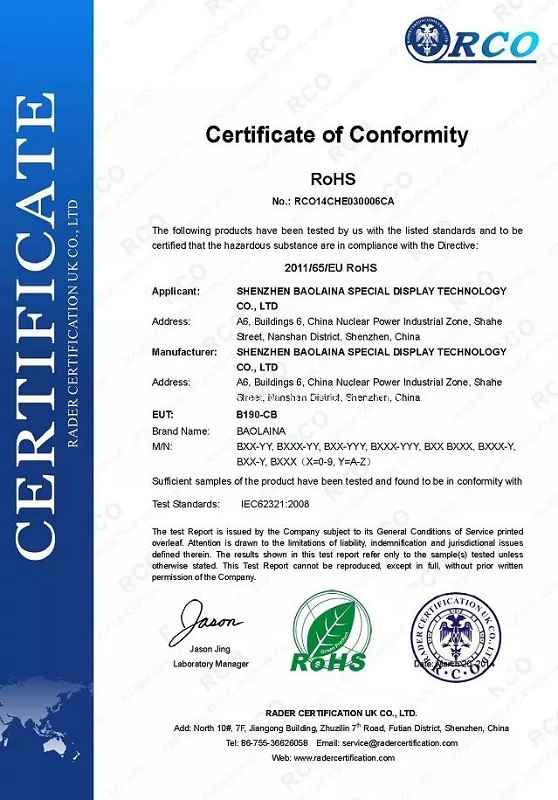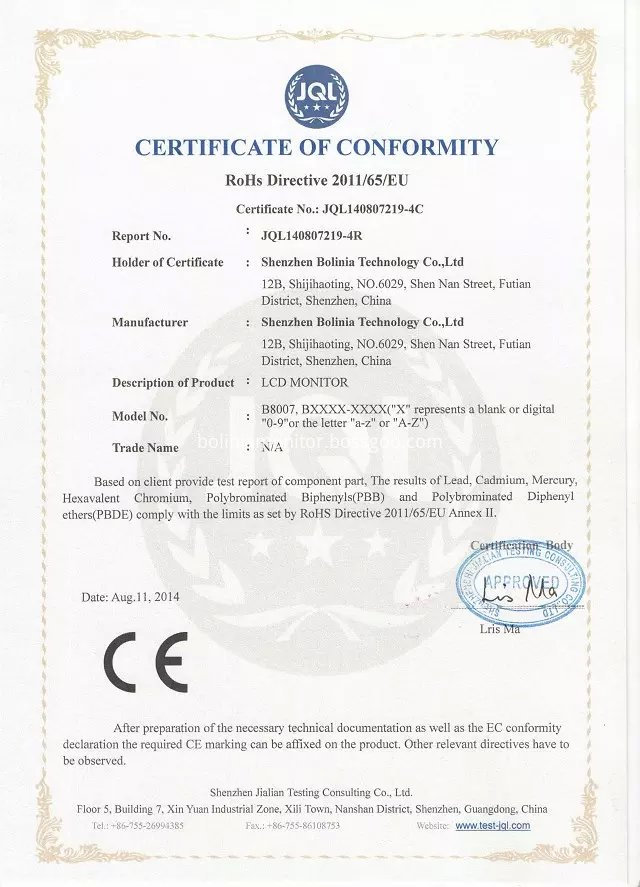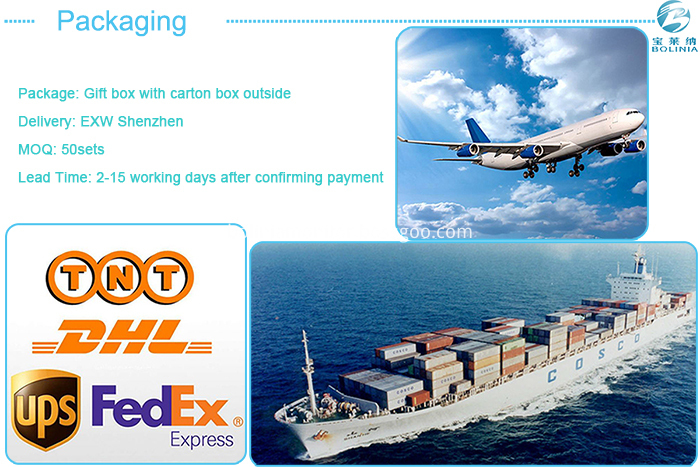 12.5 Inch HDMI Monitor
IPS panel monitor, 12.5 inch, 1920*1080p, HDMI monitor
Shenzhen Bolinia Technology Co., Ltd. , http://www.bolinia.com